ACE Engineering & Technology
Uninterruptible insulation cleaner (ACE e-CLEAN)
22.9kv extra high voltage / high voltage MCC, Washing of small parts of computers and communication equipment, Easily and conveniently, safely anywhere without turning off the power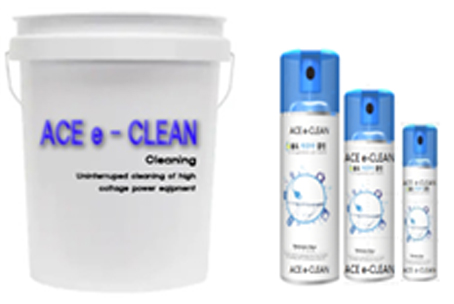 Model

ACE e-Clean (5gal) 500,1000, Super , TOP,

Volume

20L

Shape

Circular drum container

Method

Cleaning using dedicated washing equipment

Features

The e-Clean (5gal) solution is a product without ozone-depleting substances and uses for cleaning of electrical panels (high and low voltage), electronic equipment, communication equipment, etc. Also, non-stop cleaning is possible with high non-conductivity without shutting off the power, which is a great advantage.
It has the economic effect of removing the electric obstacles and extending the life of the equipment by removing the fine dust and various particles by infiltrating the cleaning solution to the deep gaps in the equipment with the exclusive cleaning equipment.
As a non-corrosive and non-oxidizing substance, it prevents damage to electronic parts due to cleaning and does not leave residues after evaporation after cleaning.
Features of the product
- High non-conductive insulation
- Uninterruptible cleaning
- Non-corrosive
- High flash point
- Fire risk prevention
- Prevent damage to parts
Product use range
- 22.9kv extra high voltage / high voltage MCC
- Power facility, communication facility, MDF, signal controller
- Automation equipment and PC
- Semiconductor equipment / Advanced medical equipment
Usage
- Uninterruptible insulation cleaning for dust and fine dust in power facilities that are difficult to cut off for 24 hours
- Insulation cleaning to prolong the life of electric and electronic parts, and prevent troubles regardless of power ON & OFF
Coverage
- Extra high voltage (22.9kv), high-voltage(6.6kv~3.3kv), Switchboard, VCB Panel etc.
- Low voltage panel (440V~380V), ACB & MCCB Panel etc.
- Control Panel, PLC, Switch Panel
- Electric vehicle resistance, filter reactor, vehicle switchboard